Tropical Island Koh Lanta
First… welcome to Koh Lanta!
This beautiful island in the Andaman Sea has managed to escape mass tourism for years. Easily accessible (less then 80km from Krabi international airport), Koh Lanta offers a full range of services.
The island boasts a wide range of accommodation from budget bungalows to five star resorts, great restaurants, diving schools, tour guides and pretty much any tourist service you can imagine. It also offers all the comfort and support for long term living such as a hospital, dentists, post offices, police and fire station, schools and even an international school.
Koh Lanta is one of Thailand's best kept secrets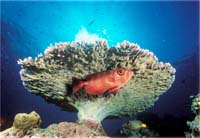 It was only a few years ago when foreigners and developers discovered the potential of the island. This archipelago of 52 islands (of which only two are inhabited) offers unparalleled beauty. The clear water, beaches, forests, national park and the friendliness of local people is something you have to experience for yourself. There is one more great thing besides the beauty of this national park which covers a large part of Koh Lanta. It guarantees that Koh Lanta will never be overbuilt and will always offer its stunning natural beaches and rainforests for you to explore.
Just imagine…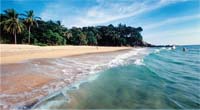 at any time of year, even in the peak season, you can still jump on a scooter and within a few minutes find a totally abandoned beach – a beautiful white sandy beach and turquoise sea with the sun setting over distant islands on the horizon. This is something that people in Phuket, Pattaya or Koh Samui can't even dream about. But you don't have to be just dreaming to call this place home.
It's no surprise that Koh Lanta is at the top of investors' lists with a high return on property investments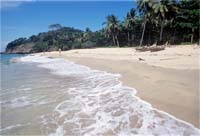 Prices are increasing steadily between 25-30 percent annually, but the purchase price is still well below that of similar properties in Phuket or Koh Samui. At a time when the world is facing economic problems, it makes a perfect sense to invest in an island of future – Koh Lanta. This was one of our reasons for choosing Koh Lanta for our project (and that was the easy part). Finding a stunning beach was easy too. Klong Nin is considered by many to be the most beautiful beach in southern Thailand. More difficult was to find the best available property – we believe we did just that: take a look for yourself and be the judge…
Quick Facts About Koh Lanta:
Region: Krabi
Nearest Airport: Krabi Town
Main Town: Ban Saladan
Population: 28,000
People: Thai-Chinese, Thai Muslim, Sea Gypsy
Industries: Fishing, Rubber & Palm Oil Farming, Shrimp Farming, Tourism
Area: 134 square km
Distance from:
Krabi Airport: 70km
Ao Nang: 90km
Trang: 120km
Surat Thani: 280km
Phuket: 250km
Bangkok: 900km
You won't be disappointed when it comes to things to do on Koh Lanta. The climate is perfect for relaxed outdoor activities  and a host of other stuff for the more adventurous.
Scuba Diving:
Koh Lanta has access to some of Thailand's top dive sites such as Koh Haa, Hin Daeng, Hin Muang and Koh Phi Phi
Snorkeling:
With a water temperature of around 30 degrees Celsius, visitors can enjoy the spectacular underwater scenery on snorkeling trips such as Koh Rok and the 4 Islands Tour.
Kayaking:
Koh Lanta has a huge protected mangrove ecosystem – kayak around the mangrove and enjoy the scenery.
Elephant Trekking:
The elephant is one of Thailand's icons, and you'll find several well run camps here on the island.
Spa & Massage:
Have a lazy day with a Thai massage on the beach or get pampered at a resort spa.
Thai Cooking:
Learn to cook how the Thais do, and sample what you've cooked at the end of the day.
Sports:
For the more adventurous you can learn Thai boxing, practise yoga or work out at the gym
Diving Around:
Rent a scooter or car and drive yourself around this amazing island, see some stunning views and untouched beaches at your own pace